August 13, 2007
Summer Heat = Summer $ale
| | | |
| --- | --- | --- |
| | | In honor of our melting brains and shrinking wallets (thanks Con Ed!), we're doing a Summer Sale. Mention "Summer Sale" in the "Special Instructions" portion of your online order and we'll deduct 10% off your total. |
The catch? You need to complete an online credit card order at the Middle Pillar Store between now and midnight September 4, 2007 for at least $21.12. The discount will be taken by us after your online check-out. Every title in stock is available for this promotion - including the 60 items we newly added to our Sale section.

Any questions, just send an email to sales@middlepillar.com. Stay cool, everyone!

Posted by KD at 08:11 PM
August 11, 2007
Upcoming tMitG performance
I'm happy to announce the Machine in the Garden are performing live on Sunday, August 19th, 2007 in Austin, TX. The show is at The Red Eyed Fly (715 Red River, Austin, TX), and is presented by Raw Deal Productions. Also performing that night: Sunshine Helicopters, Heather's Laugh and Gobi.

Show details: 10:00 PM, it's an all ages, 18+ $5, $8 for under 18
Posted by KD at 06:28 PM
September 27, 2006
TUQV at Lovecraft Convention


Composer Jason Wallach aka The Unquiet Void will be appearing at the HP Lovecraft Film Festival in Portland, Oregon on October 6-8! Jason will have copies of all of his releases for sale at the con, including the new Lovecraft-inspired The Shadow-Haunted Outside, which is also available for pre-order.
Click the banner for more festival details.
Posted by KD at 06:39 PM
January 02, 2006
Fashion, meet music. Fall in love, have a baby.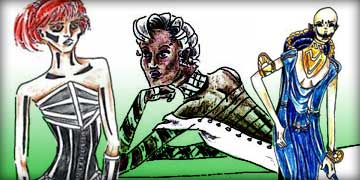 ill |Michelle Nadeau

Here's music inspiring fashion in front of your eyes! Morbid Outlook is running a very cool contest for the best fashion interpretations of three underground music tracks. The inspirational music motifs are Amber by Ashengrace, Footfalls by Null Device and Whore Money by The Brides. You can help MO decide which fashion illustrator takes the cool bag of swag by checking out the awesome entries here.

Posted by KD at 03:26 PM
October 28, 2005
The Brides Drop Dead!





During Halloween weekend 2005 the biggest deathrock extravaganza in the North America is taking place in NYC. From October 28th through October 31st an international barrage of psychobilly, horror punk, goth, dirge and well...deathrock, all courtesy of the Drop Dead Festival III, will be shaking your bones. The Brides, performance on Saturday night is one highlight out of seemingly hundreds, included a grand finale with Nina Hagen! Check out the DD3 website for a full line-up, ticket info, etc. Don't miss it!


And don't miss The Brides self-titled debut album available now.

Posted by KD at 01:22 PM
October 07, 2005
Myke Hideous Radio Interview
| | | |
| --- | --- | --- |
| | | This Sunday, Keith Roth (host of The Electric Ballroom show) will feature an interview with Myke Hideous, of The Empire Hideous. Myke will be speaking about his time with the Misfits, SpySociety99, The Empire Hideous and his singing gig for The Bronx Casket Co. Myke will also touch on subjects such as his autobiography ("King Of An Empire To The Shoes Of A Misfit"), the next Bronx Casket Co. LP, video, upcoming gigs, and the forthcoming Empire Hideous compilation CD. |
The Electric Ballroom can be heard on WRAT, 95.9FM in NJ and streaming on the web - just click the Listen Live link - at www.wrat.com. The Electric Ballroom begins at 10PM EST with Myke's interview at 10:30PM. Music from Myke's career will also be played, including tracks from the acclaimed Empire Hideous album, Say Your Prayers.
Also, be sure to catch Mr. Hideous and the Bronx Casket Co. live in concert on October 28th @ Jacks in Virginia & October 30th @ The Paramount Theatre in Asbury Park, NJ.

Posted by KD at 06:08 PM
September 30, 2005
Michale Graves and Mister Monster members Tour

J-Sin Trioxin, Mister Monster


J-Sin Trioxin of Mister Monster has joined Michale Graves for his U.S. tour. J-Sin heard about the recent problems with Michale's band and reached out to his friend to offer his support. Michale and J-Sin have been friends since the days of The Misfits. This is a natural fit as Michale's current bassist, J.V., played along side J-Sin in Mister Monster. They're halfway through their tour, but there's still a month's worth of shows left. Click the link below for info.

And check out the new Mister Monster limited edition CDep,
Deep Dark.





10.02 El Cajon, CA Jumping Turtle
10.03 Downey, CA Anarchy Library
10.05 Modesto, CA Fat Cat Music House
10.08 Tacoma, WA Hell's Kitchen
10.11 Salt Lake City, UT Burt's Tiki Lounge
10.12 Loveland, CO Climax Lounge
10.14 Ankeny, IA Roadhouse 69
10.15 Cudahy, WI Vnuk's
10.18 Wichita, KS Joni's Club
10.20 St. Louis, MO Creepy Crawl
10.21 Cincinnati, OH Sudsy's Malone
10.22 Cleveland, OH Phantasy Nite Club
10.23 Dayton, OH Elbo's Club
10.26 Flint, MI Machine Shop
10.27 Elyria, OH The Spot
10.28 Clarence, NY Diablo's Buffalo
Posted by KD at 07:06 PM
September 29, 2005
The Brides at the Eccentrik Festival





Catch those creepy kooks, The Brides, when they perform at the Ecccentrik Festival, with fellow nutters: Voltaire, The Last Dance and Bella Morte. The festival is this Saturday, October 1st, and is held at the Pour House in Raleigh, NC. Advance tickets are still available.

Don't miss The Brides self-titled debut album available now.
Posted by KD at 06:29 PM
September 16, 2005
tMitG Tour Diary



Check out the Machine in the Garden's tour diary on their My Space blog. It's got playlists, radio adventures, casket drivers and more. Cool!

There's still two shows left. Tonight's in Louisville, KY at the Main Street Lounge (104 W Main St, 21+)

Tomorrow's night's in Charlottesville, VA, at the The Dawning @ The Outback, 917 Preston Ave with guests Heaven Falls Hard.

For information on their latest album and MP3s, please see the Shadow Puppets release page.
Posted by KD at 07:56 PM
September 07, 2005
the Machine in the Garden tour dates

tMitG: Roger & Summer


Maybe Roger and Summer are coming to a city near you? Check out the dates for the Machine in the Garden's Fall 2005 Tour!

September 13 in Champaign, IL September 14 in St. Louis, MO September 15 in Nashville, TN September 16 in Louisville, KY September 17 in Charlottesville, VA
September 13 in Champaign, IL
Subversion @ The Highdive, 51 Main Street, Champaign, IL
$3, 19+, Doors at 10 PM
September 14 in St. Louis, MO
TBA
September 15 in Nashville, TN
"Out ov the Coffin" @ Hair of the Dog 1831 12th Ave S, Nashville, TN
$7, doors at 9 PM, 18 to enter/21 to drink.
The Last Dance headlines! Plus Simple Shelter
September 16 in Louisville, KY
Main Street Lounge (patio), 104 W Main St, Louisville, KY
No cover, 21+
September 17 in Charlottesville, VA
The Dawning @ The Outback
917 Preston Ave with guests Heaven Falls Hard
$6 for 21+, $8 for 18+

Posted by KD at 04:34 PM
August 16, 2005
tMitG Semi-Acoustic Performance

tMitG


Join the Machine in the Garden for a special semi-acoustic in-store performance at End of an Ear (2209 South First) in Austin, TX on Saturday August 20 at 7 PM. This will be a very special show featuring songs they don't often perform live in an intimate setting.

More tMitG performances are in the works. Check www.tmitg.com for updates. For information on their latest album and MP3s, please see the Shadow Puppets release page.
Posted by KD at 07:28 PM
July 14, 2005
The Brides in Brazil!

The Brides


Tour News: The BRIDES are heading own to SOUTH AMERICA for a number of shows in Brazil! Here's the info for three shows in Sao Paulo -

SAT., JULY 16th, 2005 - @ FUNHOUSE
- Rua Bela Cintra, 567 - Consolacao, SP.
Tel: (11) 3259-3793

FRI., JULY 22nd, 2005 - @ CLUBE OUTZ
- Rua Augusta 486 - Consolacao, SP.
Tel: 3237-4940

SAT., JULY 23rd, 2005 - @ HOLE CLUB
- Rua Augusta, 2203 - Jardins, SP.
Tel: (11) 3086-1083

"There aren't just one or two good things about The Brides. There are dozens amongst dozens!" - BlackAngel Promotions

Read the entire The BlackAngel Promotions review here.



THE BRIDES CDs are available here!





Posted by KD at 05:25 PM
June 28, 2005
DJ KD at HEX!
This Wednesday night I get to play guest DJ at HEX! in Brooklyn, NY.
Wednesday, June 29th, 2005.
KD (of Middle Pillar) and resident DJ Jeremy will be spinning the best of Gothic, Coldwave, Death Rock, Post-Punk and
No-Wave. The night starts at 10:00pm. NO COVER!
HEX! every Wednesday @
The Lucky Cat
245 Grand Street
(between Driggs & Roebling)
Williamsburg
Brooklyn 11211
(718) 782-0437
www.theluckycat.com
Posted by KD at 07:29 PM
June 10, 2005
Middle Pillar Presents, Hell's Hundred News Bulletin
Read a web friendly co-opted version of the "insider" Middle Pillar Label email newsletter - it's chock full of reviews, concert news and items of interest including performances from The Machine in the Garden and Kit from The Mirror Reveals. There's also some nice words from Rue Morgue!
======================================
MIDDLE PILLAR PRESENTS
======================================
THE MACHINE IN THE GARDEN live!
------------------------------------------
supporting the new album - Shadow Puppets!

Sunday, June 12 at HaVoK in Houston, TX
with Asmodeus X. 18+
$10 singles, $7/each for couples. Doors open at 8 PM.
Shadow Puppets is available now: The brand new album from the Machine in the Garden is easily their finest - a seamless amalgam of electronics, ethereal melodies and sensuous rhythms. Dynamic, anthemic, yet at times introspective, propelled by Summer's dazzling vocals.

Visit The Machine in the Garden's homepage

======================================
THE MIRROR REVEALS - This Infinite Eye CD
-------------------------------------
From Brazil, check out a review from ROCK UNDERGROUND:

We translated it for you:

"Do not itself herself know the band does Rock"
OK, my Portuguese is a bit rusty!

For those in New York City:
Kit Messick, singer of The Mirror Reveals, is performing her cabaret show, SO FUCKING HAPPY: A night of Randy Newman featuring Kit "Kitastrophe" Messick this Saturday & Tuesday.

Saturday, June 11, 6pm
Tuesday, June 21, 7pm
Don't Tell Mama
343 W. 46th St (bet. 8th-9th)
21 and ober, $5 + 2 drinks

And check out her new site: Puttin' the Kit in Kitastrophe!
This Infinite Eye CD available now!
Visit The Mirror Reveals' homepage.

======================================
THE UNQUIET VOID - Poisoned Dreams CD
-----------------------------
The great reviews keep coming in!

Check out RUE MORGUE MAGAZINE (June issue) where it says:
"The Unquiet Void practically screams for attention as the miserable soundtrack to our species' inevitable dissolution."
4 of 5 skulls!
ROCK UNDERGROUND also reviewed Poisoned Dreams, which we didn't attempt to translate.

Next newsletter - Stay tuned for an announcement about new TUQV stuff!
Poisoned Dreams CD available now!
Visit The Unquiet Void's homepage.

=====================================
HELL's HUNDRED RECORDS
=====================================
MISTER MONSTER - new release!
-----------------------------
MISTER MONSTER
Deep Dark
Ltd Ed. Enhanced CDEP
All new five track deathrock goth-punk EP from J~Sin Trioxin and crew. Mixing dragster trash guitars and blood-soaked melodic crooning this is the new music fans of doo-wop rock have been waiting for. This enhanced CD contains the tracks "Deep Dark" and "Torn Prince" plus two other exclusive music cuts and a Quicktime video for "Deep Dark". Limited to just 500 copies (!)
Deep Dark is available now.
Pick up MISTER MONSTER's Over Your Dead Body V2,
from Middle Pillar or at selected HOT TOPIC stores!

Visit Mister Monster's blog.

======================================
ORDER Middle Pillar releases

News should be sent to label@middlepillar.com
-------------------------------------------------------
to SUBSCRIBE to the Middle Pillar label email bulletins,
please email label@middlepillar.com with the word
"subscribe" in the header
-------------------------------------------------------
- Please forward the newsletter to your friends -

Posted by KD at 01:36 PM
June 01, 2005
The Brides at The Dark Arts Festival

The Brides woop it up!


THE BRIDES will be the headlining performers at this year's THE DARK ARTS FESTIVAL. The event takes place this weekend, June 3-5th 2005, in beautiful Salt Lake City, Utah!

The Brides will be playing on Sunday evening along with Middle Pillar favorites Black Atmosphere. Other weekend performers include Project 12:01, Still Life Decay, Secret Secret, Stolen Babies, Machinegun Symphony, plus Johnny Indovina (Human Drama) will play Master of Ceremonies. There will be tons of stuff happening out there in the Mountain Time Zone! Woo-hoo!

Check out the Dark Arts page for all the grisly details.
Posted by KD at 07:11 PM
May 24, 2005
Contempt's Lucky 7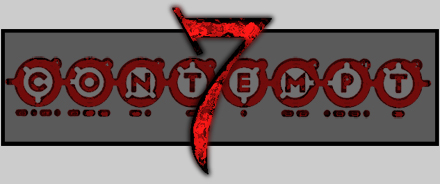 Middle Pillar is helping Contempt celebrate their 7th anniversary in NYC!
Contempt is a unique goth / industrial event held about once a month in New York City that features a bring-your-own-CD practice which make the night unpredictable! DJ Cypher (also known from his Darkwave Lounge) will be flying in to spin on the main floor.
Middle Pillar will supplying giveaways from the Machine in the Garden, KOBE and Mister Monster!
Contempt's 7th Anniversary theme is "LAS VEGAS STYLE". Dress in style as a High Roller, a Vegas Celebrity, a dead Showgirl (or boy!), the Brat Pack, or your very best suit. As always, The Contempt Go-Gos keep the dancefloor rolling!
Contempt is at The Remote Lounge
327 Bowery (Between 2nd and 3rd Streets)
10:30 p.m.- 4 a.m.
21+ with ID, please
Only $5 with pass, printed E-mail, web site print out... only $7 without!
Posted by KD at 03:39 PM
May 19, 2005
the Machine in the Garden - LIVE

Summer at C11


Tomorrow evening the Machine in the Garden will be performing old favorites and new tracks from their recently released Shadow Puppets CD, in Dallas, Texas. The band performs along with Hungry Lucy and Bloodwire. Here are the details:

* tMitG live at The Cavern
* Friday, May 20 2005
* 1914 Lower Greenville Ave, Dallas, TX
* ages 21 and up - (214) 828-1914
* dowloadable color flier
Posted by KD at 11:41 AM
May 04, 2005
The Brides and Bella Morte Play Nice
BELLA MORTE and special guests THE BRIDES
Perform live this Sunday (Mother's Day), May 8th
Doors are at 9pm, Brides at 10pm, Bella Morte at 11pm
Venue: Grape Street Philadelphia
Address: 4100 Main St., Philadelphia, PA
DJs: PHRANQUE, DEEJAY 23, ASTREA, and OCTO-PUSSY
Cost: $8.00 DOOR / $6.00 ADVANCE
GIVEAWAY: There will be a giveaway of 150 posters, 50 of which will be signed! Get one fer yer Mom! Get her a CD, too!

Posted by KD at 10:33 AM
April 24, 2005
tMitG and Mister Monster at Convergence 11
The Machine in the Garden and Mister Monster performed at Convergence 11 in San Diego, California this past weekend. Mrs. Pillar and myself couldn't make it this year, but I heard it was a blast! The Machine in the Garden has posted some pics at their website if you want to check it out. I hope to have some pics soon.
Posted by KD at 12:34 AM
April 18, 2005
Shadow Puppets
| | |
| --- | --- |
| Shadow Puppets - MPP975 | The new album from the Machine in the Garden, Shadow Puppets, is available now! |
Posted by KD at 05:53 PM