« New Dark-Folk in stock | Main | Shadow Puppets MP3s »


May 24, 2005
Contempt's Lucky 7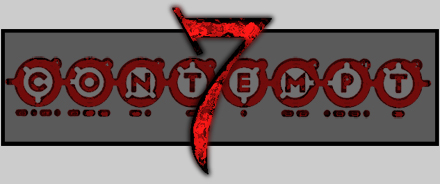 Middle Pillar is helping Contempt celebrate their 7th anniversary in NYC!
Contempt is a unique goth / industrial event held about once a month in New York City that features a bring-your-own-CD practice which make the night unpredictable! DJ Cypher (also known from his Darkwave Lounge) will be flying in to spin on the main floor.
Middle Pillar will supplying giveaways from the Machine in the Garden, KOBE and Mister Monster!
Contempt's 7th Anniversary theme is "LAS VEGAS STYLE". Dress in style as a High Roller, a Vegas Celebrity, a dead Showgirl (or boy!), the Brat Pack, or your very best suit. As always, The Contempt Go-Gos keep the dancefloor rolling!
Contempt is at The Remote Lounge
327 Bowery (Between 2nd and 3rd Streets)
10:30 p.m.- 4 a.m.
21+ with ID, please
Only $5 with pass, printed E-mail, web site print out... only $7 without!
Posted by KD at May 24, 2005 03:39 PM