January 05, 2006
the Machine in the Garden in another Top 10!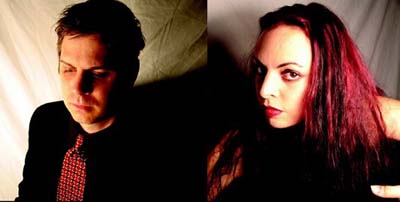 Gothic Paradise has not only graciously named the Machine in the Garden as one of their Top 10 gothic artists for 2005, but the band is currently the site's special feature!
GP had this to say:
  "They employ their talents for creating dark, 
  haunting music with Summer's mysterious vocals that 
  have had fans swooning all of these years."
Check out the full review which includes extended album reviews for Shadow Puppets (5/5) and Asphodel (4/5) plus the rest of their gothic/industrial/ethereal Top 10 at www.gothicparadise.com.

Posted by KD at 09:34 PM
December 14, 2005
the Machine in the Garden named in Top 10!
| | | |
| --- | --- | --- |
| | | For their Best of 2005 Special, the nocturnally-themed radio show TheSkysGoneOut picked the Machine in the Garden's Shadow Puppets to be among this year's top releases. Show co-host, Jason Pitzl-Waters, selected Shadow Puppets as the number two pick in his Top Ten countdown. |
TheSkysGoneOut can be heard on Champaign, Illinois WEFT 90.1 FM or you can download the show directly in MP3 format.

This wasn't the first sign that critic's loved Shadow Puppets! The album has recieved excellent reviews in Gothic Beauty, VIRUS! Magazine, Starvox and others.


VIRUS! Magazine says:
The duo's blend of sultry vocals, electronica, and other instruments creates music that is both haunting and exhilarating, with songs that possess wonderful instrumentation, great psychological depth, and artistic vision. Read more here.

Starvox raves:
Hypnotic beats, swirling guitars, ambient textures, and the powerful voice of Summer Bowman all merge to create a sum greater than their parts. Read more here.

Gothtronic writes:
Simply a beautiful CD, one that is very recommendable. Read more here.

Gothic Beauty wrote in Issue #18:
Summer Bowman's smooth voice gleams like a golden liquor in a curved glass. She sounds best without backing tracks and echo effects, but The Machine in the Garden has come far enough that they don't just settle for a melancholy drizzle of piano and slow synth wave while her voice caramelizes. As implied by their name, Bowman's vitality is met by synthetic music as well as wily and dizzying electric guitar. Only in "Mantra" does she seem overrun, while "Suspend" stands out, reverberating with gothy bass and a low undertow before breaking loose, giving the band resolve to ignite the fuel and shatter the surface. The band's silhouette is cast, a garment of guitar and ribbons of vocals around a structure of dark bass, gathered up in an elegantly confident gesture.

ReGen said:
Delicate yet edgy, The Machine in the Garden manages to create heavenly atmospheres without slipping into sleepy self-indulgence or cloying sweetness. Perfect moody music for goths and shoegazers alike, Shadow Puppets should particularly appeal to fans of This Mortal Coil, Faith & Disease, and Black Tape For a Blue Girl. Read more here.


Posted by KD at 07:50 PM
May 03, 2005
The Unquiet Void's Poisoned Dreams
One of the great about the new site is that I can post about what people think of us, so without too much hyping the hype, here's some awesome reviews for Unquiet Void's Poisoned Dreams CD.
The first one is from from Aural Pressure.. Although I didn't find it up on the site, (I was emailed the review) TUQV is listed as having a tracks on their April 2005 playlist along with tracks by Beyond Sensory Experience, David E. Williams and H.E.R.R.
Horror films will always be popular with the masses. The buzz of seeing nightmarish visions on the wide screen sends pulses racing to the brains core which responds in turn by releasing adrenaline into our system to counteract our fears. A basic primordial survival mechanism unchanged by time. It hasn't taken long for musicians to realise that through music the same effects, to a slightly lesser degree, can be achieved. Play any descent Dark Ambient piece with eyes closed and the lights out in total darkness and those receptive enough through the power of imagination can conjure up the wildest of visions to make the hairs on the body stand to attention. Subliminal horrors for the taking are only a CD away.
This third release by Jason Wallach, recording as The Unquiet Void, is one such recording. Taking the works of H P Lovecraft, the under / over rated horror writer depending on your viewpoint, as inspiration the eight tracks on "Poisoned Dreams" conjure up a world beset by demons in a hell strewn landscape. Using the bleakest of gloom ridden atmospheres and slight ritual / tribal leanings the music, if you let it, will induce nightmarish visions for your entertainment. Awash with synthesizers / drums / loops he has created a hybrid colossus that will appeal to like minded souls. Blackest ambient for the sickest of tormented souls. The music frizzles with tension and echo's / reverbs as the heart pounding beats thump out a relentless refrain as the chants of the old ones are solemnly spoken.
Of course the only way to listen to "Poisoned Dreams", and to realise the artists vision, is in dark solitude. Played out this way every note strikes with precision and clarity enlivening the whole experience. To play it any other way will not achieve the same effects and diminishes what is a quintessential dark ambient recording. Fear has never tasted so good."
Next one up is from the Dutch webzine Gothtronic:
You can read the entire review online but since it's short here's it is, as reviewed by Teknoir:
About a year ago i listened to a compilation cd entitled Eclectica vol.2 of the American Middle Pillar Presents label and I was totally impressed with a track of a project which was yet unknown to me. The Unquiet Void was represented on that compilation with the piece 'R'lyeh Rerisen'. Now i got a cd of his project. The third one already according to the information that goes with the album. The Unquiet Void is Jason Wallach. He is active with ambient music since 1989 (!). This cd is inspired upon the work of horror grandmaster H.P.Lovecraft, and more specifically on the the 'Cthulhu Mythes'. The tracks are based on the stories 'Dagon', The Call of the Cthulhu' en 'The Shadow Over Innsmouth'. The music consists of laidback but sometimes very intense dark ambient with strong ritual aspects. In the track 'the Esoteric Order' you will hear vocals. This is a co-operation with Bryin Dall (Loretta's Doll). The music is very good, but actually not perfect until that one track: R'lyeh Rerisen'. In this all elements come together. This is so impressively intense. For this track alone i would have bought this record, if it had not been given as a promo.
It's also worth mentioning that "Poisoned Dreams" got a 9 out of 10 (whoo-hoo!) and a seemingly great review in the Experimental/Noise section of the March 2005 issue of ORKUS magazine. It's a "seemingly great review" because I can't read German
(Doh!). If anyone out there is less linguistically challenged than I and can help with a translation, please let me know.
Does it need to be said that the entire Unquiet Void catalog is available , if you want some? Didn't think so.
Posted by KD at 12:10 AM
January 12, 2005
THE MICK # 9
Check out an interview with The Empire Hideous in The Mick #9 - Mick Mercer's webzine.
Also included is a review of Aenima's Never Fragile EP, the second release from the band. Their most recent full-length, Sentient , is available now from Middle Pillar Presents - more information here.

And from the "OK, we're a little behind in getting to this stuff" department, the more recent Issue # 10, has some very funny anecdotes on the holidays from The Empire Hideous, The Brides and The Mirror Reveals!

Posted by KD at 08:27 PM
DJ CYPHER's Best of 2004!
DJ Cypher has listed The Empire Hideous and The Mirror Reveals in his annual "Best of 2004" list!
You can listen to his picks on Dark Nation Radio Online until January 15th, so make sure to tune in!

To listen, direct your browser to www.live365.com/stations/297970.

For more on the Dark Lounge please check out their site, www.darkwavelounge.net
Posted by KD at 07:59 PM