« Happy Holidays! What party? | Main | Middle Pillar nets 3 in DJ Cypher's BEST OF 2005!!! »


January 02, 2006
Fashion, meet music. Fall in love, have a baby.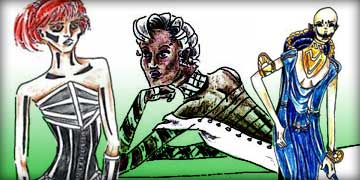 ill |Michelle Nadeau

Here's music inspiring fashion in front of your eyes! Morbid Outlook is running a very cool contest for the best fashion interpretations of three underground music tracks. The inspirational music motifs are Amber by Ashengrace, Footfalls by Null Device and Whore Money by The Brides. You can help MO decide which fashion illustrator takes the cool bag of swag by checking out the awesome entries here.

Posted by KD at January 2, 2006 03:26 PM