« May 2007 | Main | October 2007 »
August 13, 2007
Summer Heat = Summer $ale
| | | |
| --- | --- | --- |
| | | In honor of our melting brains and shrinking wallets (thanks Con Ed!), we're doing a Summer Sale. Mention "Summer Sale" in the "Special Instructions" portion of your online order and we'll deduct 10% off your total. |
The catch? You need to complete an online credit card order at the Middle Pillar Store between now and midnight September 4, 2007 for at least $21.12. The discount will be taken by us after your online check-out. Every title in stock is available for this promotion - including the 60 items we newly added to our Sale section.

Any questions, just send an email to sales@middlepillar.com. Stay cool, everyone!

Posted by KD at 08:11 PM
August 11, 2007
Upcoming tMitG performance
I'm happy to announce the Machine in the Garden are performing live on Sunday, August 19th, 2007 in Austin, TX. The show is at The Red Eyed Fly (715 Red River, Austin, TX), and is presented by Raw Deal Productions. Also performing that night: Sunshine Helicopters, Heather's Laugh and Gobi.

Show details: 10:00 PM, it's an all ages, 18+ $5, $8 for under 18
Posted by KD at 06:28 PM
August 05, 2007
Back In Stock


Back in stock: The Mirror Reveals Frames of Teknicolor digipak CD

We're pleased to have the last remaining copies of the original pressing by this premiere ethereal band. While out of stock for years, some copies of Frames of Teknicolor were recently found and returned to us from an overseas distributor.


Frames of Teknicolor features the extraordinary vocal talents of Kit Messick, (former member of Unto Ashes), and music by the equally talented Babbo. The then duo were joined by guest vocalists Mark Steiner (Piker Ryan / Kundera) and Mary Murphy, with mixing and aural sculpture by A Murder of Angels' Bryin Dall and Derek Rush.



Available now from the Middle Pillar store.
Posted by KD at 02:14 PM
August 04, 2007
Mirabilis Interview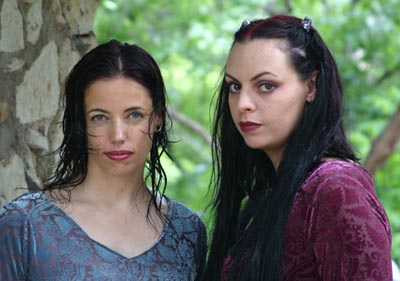 Re-Gen Magazine has published an very in-depth interview with Dru Allen and Summer Bowman of Mirabilis. (Be patient, it takes a coupla secs to load). Learn how they collaborate as writers, what's happening with This Ascension and the Machine in the Garden, and how being a tri-athlete is goth! Plus more then just a few words on their upcoming new release, "Sub Rosa," which is set to be released late Fall 2007. It's a great read!
Posted by KD at 05:24 PM