« April 2007 | Main | August 2007 »
May 19, 2007
Friends at Convergence 13



Next weekend the Convergence 13 dark culture festival gathers in Portland, OR. Among the many friends and performers we'll be missing, (sniff!), will be Dru Allen, Soriah and Paul Mercer.
First up, Paul Mercer of The Changelings will be helping to open the weekend-long party with a special performance at Friday's (May 25th) Official C13 Reception / Meet & Greet, which begins 2 PM.
Then fast forward a bit as Dru (of Mirabilis and This Ascension) will be opening for Soriah (aka Enrique of Sumerland) on Sunday, May 27 at the Victorian Sunday Mourning Rehydration Service at The Old Church beginning at 1PM.
The service will just be one unique event over a weekend of performances and festivities which include Skinny Puppy, Frontline Assembly, and Faith & The Muse. Plus film festivals, art and fashion shows, panels (!?) ... and drinking! Huzzah!
Now do you wish you were going? Well, you still can. There's still time to make arrangements. Just check out the official page.

Posted by KD at 08:45 PM
May 07, 2007
More UnQuieting news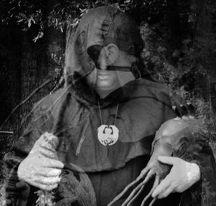 Jason Wallach aka The UnQuiet Void is scoring the soundtrack to the forthcoming horror film Closet Space. The trailer's on the TUQV website, plus there's a full clip of a death scene which links from Dread Central . It's pretty bloody, so consider yourself warned (or enticed). Lot's of horror and cruelty spilling forth from an unknown dimension, plus music by the Unquiet Void; it's going to be pretty sweet!
Oh, there's also two more recent interviews. First there's the excellent and rather in-depth interview with Jason on ReGenmag.com, where's TUQV's Shadow-Haunted Outside was named one of the best of 2006 .
Then, Jason talks gear (aptly) with Gearwire. Twittlin' knobs to summon hell!
If you don't know what all the hub-bub's about, bub, then check it.
Posted by KD at 02:34 PM