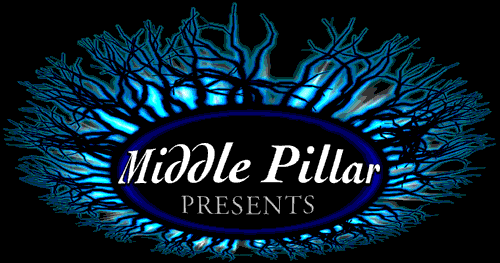 ---
MIDDLE PILLAR PRESENTS and HELL'S HUNDRED RECORDS
---
---
Middle Pillar Presents MPP989:
K O B E
Economy of Movement
Released 02/2005. Taiko, tribal percussion, and martial industrial mixing with electronic soundscapes and primal intensity.
purchase Economy of Movement
---
---
---
Hell's Hundred Records HHR1003:
The Brides
The Brides
Released 05/2004. Ultra melodic thumping fast deathrock with garage punk undertones.
purchase The Brides
---
---
Middle Pillar Presents MPP983:
Mirabilis
Pleiades
Released 01/2004. Atmospheric and neo-classical inspired sounds led by extraordinary female vocals.
purchase Pleiades
---
---
Middle PIllar Presents MPP005:
Various Artists: ECLECTICA 2
Released 09/2003. Label sampler featuring club-friendly tracks mixed with brand new songs that still satisfy our ethereal and experimental aesthetic.
purchase Eclectica 2
---
Middle PIllar Presents MPP981:
The Changelings
The Changelings
(self-titled debut)
Released 05/2003. Re-issue of the long out of print, ethereal masterpiece, featuring digitally re-mastered sound and new artwork.
purchase The Changelings
---
Middle PIllar Presents MPP984:
Aenima
Sentient
Released 03/2003. A stunning production of darkwave, ethereal and gothic rock songs with an epic layering of female siren song harmonies.
purchase Sentient
---
Middle PIllar Presents MPP982:
Zoar
Clouds Without Water
Released 11/2002. The masters of the cinematic instrumental join forces with an array of top vocalists who succinctly illustrate humanity's swansong.
purchase Clouds Without Water
---
Middle PIllar Presents MPP985:
The Changelings
Astronomica
Released 07/2002. Their long awaited cosmic jewel of ethereal bliss tinged with Middle Eastern percussion and dazzling vocals.
purchase Astronomica
---
Middle PIllar Presents MPP986:
the Machine in the Garden
Asphodel
Released 07/2002. An album of diverse beauty and transcendence, a powerful yet delicate mix of darkwave influences and ethereal melodies.
purchase Asphodel
---
---
Middle PIllar Presents MPP990:
Zoar
In The Bloodlit Dark - The Lost Album
Released 10/2001. A dark cinematic, subconscious revolution for a New Dark Age; the lost score to the post-apocalyptic movie in your head.
purchase In The Bloodlit Dark
---
Middle PIllar Presents MPP987:
The Mirror Reveals
Divinity
Released 08/2001. New CDep featuring the title track plus three other ethereal songs and beautiful female vocals. Limited to 1000 copies.
purchase Divinity
---
Middle PIllar Presents MPP992:
Sumerland
Sivo
Released 06/2001. Exotic rhythms, lush instrumentation, acoustic guitar, tribal drumming & deep, rich male vocals.
purchase Sivo
---
Middle PIllar Presents MPP991:
Loretta's Doll
Creeping Sideways
Released 04/2001. Very dark electronics and rhythms, featuring guest performances by Genesis P-Orridge and Orson Welles.
purchase Creeping Sideways
---
---
---
Middle PIllar Presents MPP002:
Various Artists: BUTOH
Released 09/2000. A label sampler exploring the experimental Japanese Dance theatre. Ethereal atmospherics with a rhythmic edge.
purchase Butoh
---
---
Middle PIllar Presents MPP000:
Various Artists: What Is Eternal
MPP000 Released 12/1998. limited digipak edition of 1000. MPP000X Released 04/2000 in a limited jewel case UK edition of 500 via World Serpent.
Both versions now out of print!
---
---
Middle Pillar Presents MPP998:
A Murder of Angels
While You Sleep
Released 09/1999. Dark, sculptural, and damnbient!
Now out of print.
---
---